City Tour in Cusco, Cathedral, Qoricancha plus 4 Ruins Sacsayhuaman, Tambomachay, Qenqo and Pucapucara
If you are looking for a tour in the city of Cusco, here we present you, our Half-day Classic Cusco City Tour, which will take you to the 4 Ruins known as:
Sacsayhuaman, Building that has large blocks of stones that reach up to 9 meters in height and with more than 340 Tons, Archaeological Site, which, without a doubt, will leave you with your mouth open.
Pucapucara, Archaeological Site "Red Fortress", built with Red Stones for the purpose of storing food, for the indigenous Inca Guard.
Tambomachay, an Inca building, also known as "Los Baños del Inca" with an advanced design in Hydraulic Engineering. That will amaze you!
Qenqo, Archaeological Site that is included in the Cusco City Tour. The Ruin of Qenqo, is a labyrinth inside a cavern, internally is the "Altar of Stone", which was probably used for the purpose of performing Human and animal Sacrifices.
As an initial part of the City Tour in the city of Cusco, we will visit the Cathedral of Cusco and the Temple of the Sun "Qoricancha", Museum of Santo Domingo.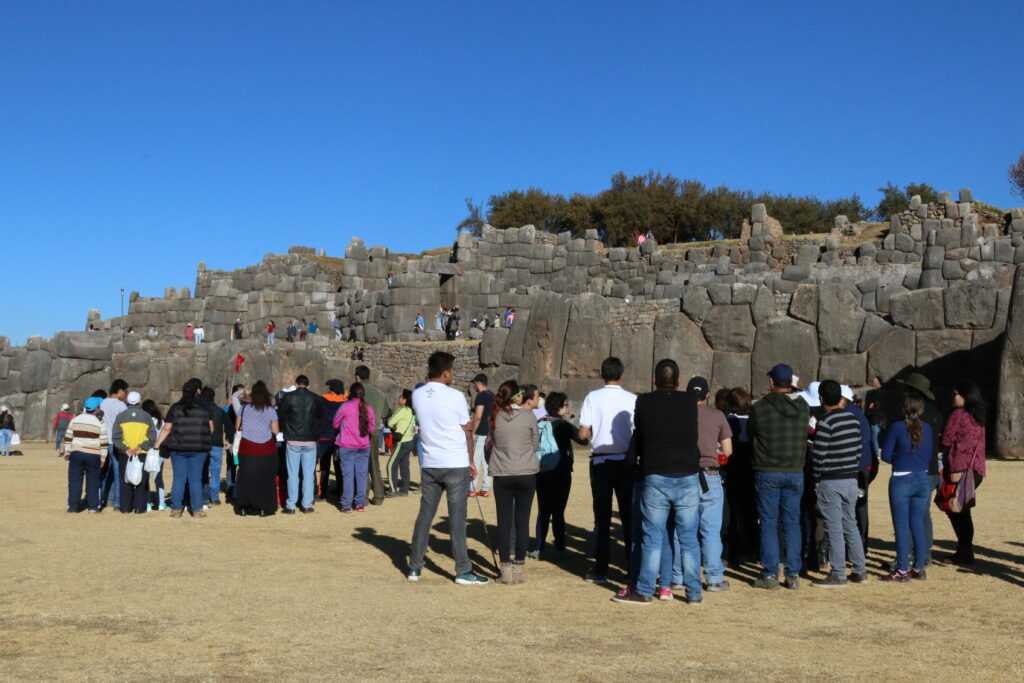 DETAILS OF CITY TOUR CUSCO
Duration: 4 hours
Language: English
Price: 35.00
Available Hours: 8:30 am approx. pick up from your lodging
Available Days: Monday to Sunday
Tour Type: Cultural
Includes: Our best Cusco Guides and Tourist Bus
Does not include: Ticket of Tickets to the mentioned Sites, Meals or Drinks
It has all the COVID – 19 Bio Security Protocol
Cusco Cathedral (Visit inside)
Temple of the Sun "Qoricancha" (Visit inside)
Ruins of Sacsayhuaman (Visit inside)
Ruins of Q'enqo (Visit inside)
Pucapucara Ruins (Visit inside)
Ruins of Tambomachay (Visit inside)
2 horas de recorrido por el centro historico de cusco con nuestro guia local cesar, visitamos lugares que no sabiamos que existia en esta hermosa ciudad del cusco como la pintura mural
Jose zapata
TO CONSIDER BEFORE BOOKING
Are you in a group of more than 8 people?
Request your Discount for this City Tour in Cusco, for a group of 3 or more People, Here
How to book the City Tour?
Making the reservation is very easy and doesn't take more than 2 minutes, fill in your name, email and telephone number or WhatsApp and click on the reserve button.
Does the Tour always leave?
Yes, our tour always leaves, in case of seeing protests or any inconvenience we will notify you in advance.
Can I cancel or modify my City Tour?
Can't attend our Tour in Cusco? no problem let us know 48 hours in advance to modify or cancel your reservation, here
The Best Guides of Cusco
Instant Booking Confirmation
24/7 Customer Service
Guides accredited by the Peruvian state
Top Best Destinations in Perú, Incredible Offers
Tours in three Cities of Peru Fully Customized